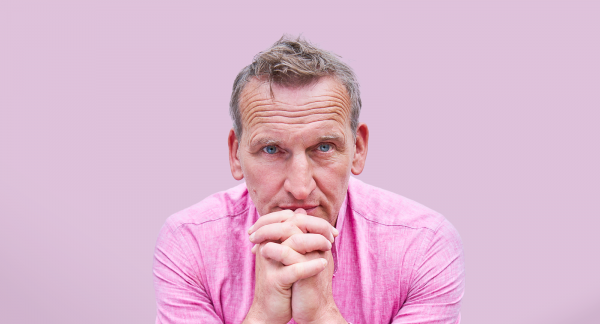 Saturday Headliner announced for #LIFI23
We are gearing up for our highly anticipated event this year, and excitement is building as we announce renowned actor Christopher Eccleston as the Saturday headliner. With an already captivating lineup of thought-provoking speakers, the addition of Eccleston and a host of incredible personalities promises an unforgettable experience that will fuse intellect, creativity, and inspiration like never before.
Christopher Eccleston, known for his remarkable acting career, will take the festival's stage, captivating audiences with his insightful perspectives and engaging presence. Eccleston's chat entitled "Arts and Culture – For the many; or the few?" will delve into his journey as a working-class actor, emphasising the importance of preserving diverse voices like his across the arts and cultural scene. He believes this is fundamental to society at large, and his presence guarantees an unforgettable experience for festival attendees.
Tickets go on sale Friday 9th June at 4pm
"We are over the moon to have someone like Christopher Eccleston headline this year's festival. We think it will be a very telling event based around class and socio-economic background as barriers to culture. Throwing in some real journalistic hosts and people at the top of their game, this year's festival is going to be really special"
Martin Dickson, LIFI23 Director
The festival is committed to presenting a diverse range of stimulating discussions and debates, and they have enlisted esteemed hosts for several captivating events. Naga Munchetty, a celebrated broadcaster known for her incisive interviews, will bring her expertise to the event titled "Other Side of the Coin." Munchetty will engage in a compelling conversation with esteemed guests Sir Jon Cunliffe and Tom Duff Gordon, exploring intriguing aspects of the future of currency.
Another highly anticipated event, "Invisible Rule of Law," will be hosted by talented BBC Journalist Lotty Leeming and feature Rob Rinder. Together, they aim to shed light on the often unseen influence of the rule of law, challenging conventional notions and sparking meaningful conversations.
Sarah Powell, a speaker and podcaster, will host a journey to mindfulness with Ruby Wax OBE. Powell, known for her brand Celebrate Yourself and its focus on self-celebration, has developed a wellbeing and self-help system that encourages people to embrace who they are. Her event promises to be a transformative experience.
Anisa Morridadi, known for her exceptional interviewing skills, will host a sold-out talk featuring the distinguished Steven Bartlett. Morridadi's insightful questions will delve into intriguing aspects of Bartlett's expertise, providing valuable insights to inspire and educate individuals on thriving in the ever-evolving landscape of business.
The festival is thrilled to welcome Divina De Campo as the host of a captivating chat with the charismatic Bimini. De Campo's charm and charisma will create an engaging environment for an enlightening conversation that explores various dimensions of creativity and self-expression.
Furthermore, the festival proudly presents Lisa Holdsworth, a prominent figure in the TV and film industry, as the host for a cultural chat with Christopher Eccleston. Holdsworth's expertise and passion for culture will foster an enriching dialogue, allowing attendees to explore the interplay between art, society, and personal experiences.
In addition to the exciting lineup of talent, the Leeds International Festival of Ideas is pleased to announce its valued sponsors, Weightmans and Bruntwood, who are committed to supporting innovation and creative dialogue. Their partnership with the festival underscores their dedication to fostering intellectual curiosity and transformative ideas.
The festival is also delighted to partner with North Brewing Co, a renowned local brewery. Together, they will collaborate on the creation of a special festival-inspired beer, offering attendees a unique sensory experience that complements the vibrant atmosphere of the event.
Leeds International Festival of Ideas continues to be a trailblazing platform, bringing together brilliant minds, inspiring discussions, and captivating performances. With Christopher Eccleston headlining Saturday's events and an exceptional lineup of hosts and guests, this year's festival promises to be an unmissable experience for all attendees.