Visit
This year Leeds International Festival of Ideas will be held at Leeds Playhouse.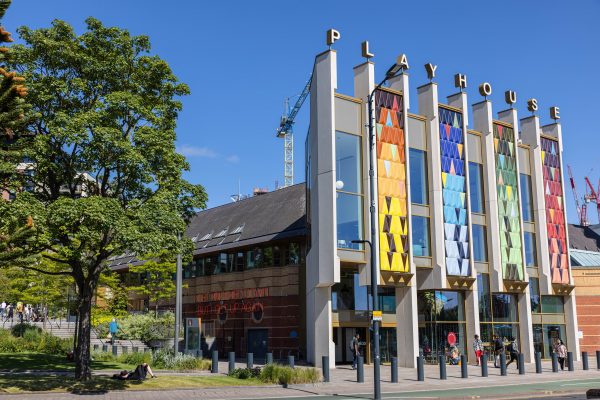 Leeds Playhouse has been one of the UK's leading producing theatres for more than 50 years.
It is an award-winning theatre and a cultural hub, and a place where people gather to tell and share stories and engage in world class theatre.
As a theatre and a charity built by and for the people of Leeds, its warm welcome was recently recognised at the UK Theatre Awards, where it was named Most Welcoming Theatre 2022.
How do I get to Leeds Playhouse?
Train
Leeds City Station is approximately a 15-minute walk away, or a 10-minute taxi ride. For train times and travel updates visit National Rail or call 08457 484950.
Bus
The Playhouse is located opposite the Leeds City Bus and National Express coach stations. To plan your journey via bus, please visit Metro or call 0113 245 7676.
Car
We recommend using the Victoria Leeds multi-storey car park. This is the closest car park located directly across the road from the Playhouse's St Peter's Street entrance. Parking is secure and is £5 after 5pm.
Additional car parking is available nearby: NCP The Markets Car Park (open 6am-11pm, SatNav LS2 7DF) and Templar Street & Edward Street Car Park (open 24hr, SatNav LS2 7LP).
There are disabled parking bays for blue badge holders at Playhouse Square. The Quarry Hill car parks are now closed.
Where can I stay during my visit to LIFI?
Whatever your budget, we've got a range of options for you to take a look at – all the way from Ibis Budget to the luxurious Dakota Leeds, read more on Welcome To Leeds.
Where do you recommend for food or drink in Leeds?
Booked your accommodation, your transport and reserved your tickets? Your next step is probably to plan how you'll spend your time in the city. And, of course, the most important part of this is where you'll be eating!
That's exactly why we've picked out the best food venues that are within easy walking distance of Leeds Playhouse. Whether you're looking for a wholesome sit-down meal or to try out something new and exciting, there's plenty of delicious options to choose from. Read more on Welcome to Leeds.
I'm having problem booking a ticket
Tickets to LIFI are managed by the venue. If you are having any problems booking tickets, please contact Leeds Playhouse on 0113 213 7700 or email info@leedsplayhouse.org.uk.
Are there any offers available when buying two or more tickets?
Do you do a school's discount?
Leeds Playhouse offers 29% discount in addition to one FREE ticket for every 10 paid for. To book, please visit Leeds Playhouse in person or contact 0113 213 7700.
What is accessibility like at LIFI?
All events will be signed and live captioned.
BSL interpreted performances
A British Sign Language (BSL) interpreter signs from the side of the stage
Captioned performances
The full text as it is spoken is displayed on screen behind the stage.
If you have any questions or would like to talk to anybody about access needs, please send an email to enquiry@leedsinternationalfestival.com
How is LIFI funded?
Leeds International Festival of Ideas is funded by Leeds Business Improvement District (LeedsBID), with some additional investment from corporate sponsors.
LeedBID represents more than 700 businesses in Leeds city centre and is funded through a BID levy, a small percentage of all eligible businesses' rateable value. Its annual investment transforms Leeds city centre for the better. Find out more here
How can I obtain media/press accreditation?
The festival's media is managed by Chapter 81. We have limited press tickets to events, and if you would like to cover the festival please get in touch simon@chapter81.co.uk
Can I apply for a photography pass?
Where can I give feedback about LIFI?
LIFI is committed to platforming new ideas and innovation in a safe and respectful environment. If at any time you feel something could be improved please let one of our friendly members of staff know or send us an email to enquiry@leedsinternationalfestival.com.
You've still not answered my question!